Cutting-edge web design can be the difference between captivating your audience and losing them to the competition. As a trusted partner in web design & development, software & mobile app design, and digital branding, VOiD Applications is dedicated to empowering you with the insights and resources you need to stay ahead.
In this blog post, we will delve into the top web design trends and tips for 2023, revealing actionable insights to ensure your digital presence stands out, keeping your brand at the forefront of technological innovations and user expectations. By examining a range of design elements, including visual aesthetics, interactivity, inclusivity, and sustainability, you can create a strategic web design approach that fosters a powerful, engaging online presence for your brand.
Embracing Dark Mode and Colour Schemes
Dark mode and bold colour schemes have emerged as popular web design trends, offering a visually striking, dynamic user experience:
Benefits of Dark Mode and Colour Schemes:
Reduced Eye Strain:
Dark mode can reduce eye strain in low-light conditions, providing increased comfort for users browsing your website during night-time hours. This not only enhances the user experience but also demonstrates your commitment to user well-being, showcasing a customer-centric approach that can improve brand perception.
Improved Battery Life:
Enabling dark mode for your website can result in lower energy consumption and extended battery life for devices with OLED or AMOLED displays. By optimising your website's dark mode, you're not only contributing to better user experiences but also aligning with eco-conscious trends, showcasing your commitment to sustainable practices and reducing the environmental footprint of your digital presence.
Enhanced visual appeal:
Bold colour schemes, complemented by dark mode, can create a powerful visual impact, differentiating your website from the competition and appealing to user preferences. This design choice not only captures attention but also communicates a sense of modernity and sophistication, potentially increasing user engagement and setting a strong first impression for your brand.
Tips for Implementing Dark Mode and Applicable Colour Schemes:
Offer a Toggle Option:
Give your users control over their browsing experience by providing the ability to switch between light and dark mode on your website. Empowering users with this choice demonstrates your commitment to user-centric design, accommodating diverse preferences and ensuring a comfortable and customisable experience that can lead to higher satisfaction and longer visits.
Choose Contrasting Colours:
Ensure text and images remain legible and visually engaging by selecting colours that contrast well with dark backgrounds. This thoughtful design approach not only enhances readability but also preserves the overall aesthetic quality of your website in dark mode, ensuring a seamless and enjoyable user experience for all visitors.
Prioritising Mobile-First Design
With the continuous rise of mobile internet usage, adopting a mobile-first design approach is more crucial than ever for providing optimal user experiences:
Benefits of Mobile-First Design:
Responsive Design:
Mobile-first design ensures your website's content and layout are seamlessly adapted to various screen sizes and devices, creating a consistent browsing experience for users.
Improved Performance:
Focusing on mobile-first design can improve website loading times, as it prioritises the performance and resource usage optimisation necessary for mobile devices.
Better SEO Rankings:
Better SEO rankings: Google's search algorithm prioritises mobile-friendly websites, so adopting a mobile-first design can result in a higher position in search engine results pages (SERPs).
Design Tips for Mobile-First Planning:
Simplify Your Layout:
Create a clean, straightforward layout for your mobile site to enhance user experience and cater to smaller screen sizes. A clutter-free design ensures that users can easily navigate your site, access important information, and engage with your content, promoting longer visits and a positive perception of your brand's commitment to user-friendly mobile experiences.
Optimise Images:
Make sure your images are responsively sized and compressed to reduce page load times, particularly on slower mobile connections. This optimisation not only improves the mobile user experience by ensuring faster access to visual content but also contributes to lower data usage and improved site performance, aligning your brand with efficient and user-friendly web practices.
Implementing Inclusive and Accessible Design
As web design trends shift towards greater inclusivity, prioritising accessible design ensures your website is usable by all visitors, regardless of their abilities or disabilities:
Benefits of Accessible Design: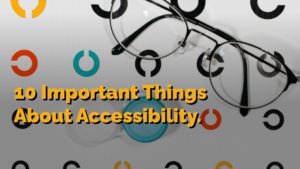 Wider Audience Reach:
An accessible website caters to a broader range of users, ensuring your content is available and engaging for everyone, not just users without impairments. By prioritising accessibility, you not only improve the inclusivity of your site but also expand your potential audience, fostering a more diverse and inclusive online community around your brand.
Enhanced Usability:
Incorporating accessibility features and best practices can benefit all users, not just those with disabilities, by making your website more user-friendly and efficient to navigate. This commitment to improved usability demonstrates your dedication to providing an exceptional user experience, resulting in increased user satisfaction, longer time spent on your site, and higher engagement rates across the board.
Positive Brand Image:
Demonstrating a commitment to accessibility can help foster a positive brand image and reputation, showcasing your organisation's values and dedication to inclusivity. By prioritising accessibility, you not only create a more inclusive digital environment but also align your brand with ethical and socially responsible practices, enhancing your overall appeal to a conscious and diverse audience.
Tips for an Inclusive Design that Promotes Accessibility:
Follow accessibility guidelines:
Study and adhere to the Web Content Accessibility Guidelines (WCAG) to ensure that your website is accessible to users with different impairments. This meticulous approach to accessibility not only helps you meet legal requirements but also ensures that your website provides a seamless and inclusive experience for all visitors, demonstrating your commitment to accessibility and positioning your brand as a leader in digital inclusivity.
Test with various tools
Utilise accessibility testing tools, such as screen reader simulators, to ensure that your website is accessible to as many users as possible. This proactive approach helps you identify and rectify accessibility barriers, promoting a more inclusive digital environment and ensuring your website meets the diverse needs of your audience.
Incorporating Sustainable Web Design Practices
Sustainable web design aims to minimise the environmental impact of websites by prioritising energy-efficient design and development practices:
Benefits of Web Design Practices that Promote Sustainability:
Reduced carbon footprint:
Adopting sustainable web design practices can help lower your website's energy consumption, resulting in reduced carbon emissions and a smaller environmental footprint. By optimising your website for energy efficiency, you not only demonstrate your commitment to environmental responsibility but also contribute to a greener digital ecosystem, aligning your brand with eco-conscious consumers and fostering a positive image of sustainability.
Enhanced Performance:
Sustainability-focused design practices also prioritise website performance and user experience, offering additional benefits in terms of user engagement and satisfaction. By streamlining your site's code and optimising its resources, you not only reduce environmental impact but also ensure faster load times and a smoother browsing experience, ultimately enhancing your brand's reputation for efficient and user-friendly digital interactions.
Tips for Incorporating Sustainability into Web Design Practices​:
Optimise Assets:
Complying with Web Content Accessibility Guidelines (WCAG) to make your website accessible to users with various impairments is vital. Additionally, optimising digital assets, like images and multimedia, ensures efficient loading and accessibility. This comprehensive approach ensures an inclusive, high-performance website that caters to a wide range of users, fostering a positive brand image and engagement.
Choose Eco-friendly Hosting:
Select hosting providers that use renewable energy sources or invest in carbon offset projects to minimise the environmental impact of your website's hosting. By aligning your web hosting with eco-friendly practices, you not only reduce your site's carbon footprint but also demonstrate your commitment to sustainability, appealing to environmentally-conscious consumers and reinforcing a positive brand image.
With the ever-shifting digital landscape, staying informed about the latest web design trends and tips is crucial to ensuring your digital presence remains compelling and engaging. By embracing dark mode and colour schemes, prioritising mobile-first design, adopting inclusive and accessible design practices, and incorporating sustainable web technologies, you can ensure your website remains user-centric and at the forefront of digital innovation.
Trust in the expertise of VOiD Applications to guide you through these trends and help your brand flourish. We assist businesses in changing their digital plans through our services, such as website creation, software and app design, and digital branding. Contact us about Web Design, today!